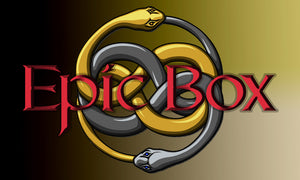 Epic Box - Autograph Only - Epic Fantasy Films
Epic Toys is excited to announce the "Epic Fantasy Film" Box!!! This box celebrates some of the best fantasy films that hold a special place in the hearts of all true fans! Franchises in this release include: The Neverending Story, Willow, Labyrinth, Legend and a surprise last minute addition, Lord of the Rings!! The Epic Team absolutely love these franchises, and are very happy to bring them to you! This Autograph Only Option contains One (1) Autographed 8x10 from a MAIN CHARACTER actor!  These boxes are in EXTREMELY limited number, so act fast and you will be glad that you did!!! 




Epic Box is not a subscription box, but is very much a mystery! Every release will have a theme that includes everyone's favorite franchises and feature Autographs, and collectibles that are truly one of a kind! Every box is guaranteed to contain an authenticated autograph for life! 




The Autograph only box is something new that Epic Box featured in the last release, and was responded to so well that we decided to continue it in this release. We realize as collectors ourselves that some collectors only collect autographs. If you are a fan of the franchises featured, this is your chance to own a truly amazing piece!!

 

Box Contents

1 Autographed 8x10 picture!

 

Disclaimer


Due to the fact that Epic Box is a mystery box and that they contain autographs, they are non-refundable. By purchasing this item you agree to these terms. However, we are collectors and toy lovers like yourself and we are extremely confident that everyone that purchases a Epic Box will be very happy with their purchase!! Thank you from the Epic family!!!