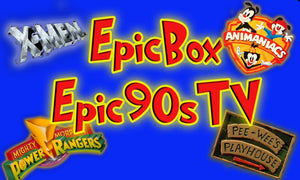 Epic Box - Epic 90s TV
The 90's is one of the greatest decades for television!! With so many different amazing TV shows, we have worked very hard to select Autographs and Collectibles from 4 of the most remembered and loved ones that are still watched and treasured today!! 
X-men Animated Series, Mighty Morphin Power Rangers, Pee Wee's Playhouse and Animaniacs!!! 
This Release features 7 amazing celebrity/Actor signers!!
And the most famous world renown comic book artist that we have ever had the pleasure to sign for Epic Box!! 
  This tier is the "Epic Box" Tier and features 1 Autograph from 1 amazing actor in one of these franchises!! Also, other great items that you are sure to love!!
Epic Box is not a subscription box but is very much a mystery! Every release will have a theme that includes everyone's favorite franchises and feature Autographs, and collectibles that are truly one of a kind! Every box is guaranteed to contain authenticated autographs for life!
Epic Box Contents
1 Epic Autograph from an amazing Actor!!!
2nd Item - ???????????

3rd Item - ???????????
 4th Item - ???????????
Well....you get the idea. It's a mystery....
Disclaimer

Due to the fact that Epic Box is a mystery box and that they contain autographs, they are non-refundable. By purchasing this item, you agree to these terms. However, we are collectors and toy lovers like yourself, and we are extremely confident that everyone that purchases an Epic Box will be very happy with their purchase!! Thank you from the Epic family!!!