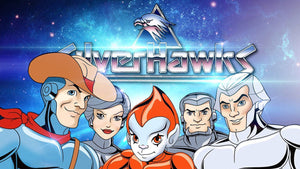 Silverhawks - Double Signed Quicksilver and Bluegrass Autographed 8x10
Autographed Silverhawks 8x10 cast picture signed by legendary voice actors, Larry Kenney as Bluegrass and Peter Newman as Quicksilver!!! These 8x10s are all signed by Larry with a blue paint pen and are inscribed "Bluegrass" and by Peter with a silver paint pen and are inscribed "Quicksilver"!! 
All autographs will come with Epic's authentication!!