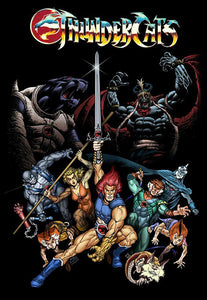 Thundercats - Cast Autographed 11x17 Mini-Poster x3
Thunder, Thunder, Thunder, Thundercats Hooooo!!!!!
So, you couldn't get out to a Comic Con to meet The Thundercats in person, no problem because we have you covered! Get your Thundercats Autographs directly from the source! The owner of Epic is also the agent of the cast. These triple signed posters are extremely limited!!
Autographed Thundercats 11x17 Mini Poster signed by the legendary original cast of the Thundercats!! These 11x17s are all signed in paint and include the character names. 
Larry Kenney - Lion-o
Peter Newman - Tygra
Lynne Lipton - Cheetara
All autographs will come with Epic's authentication!!!