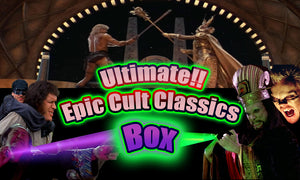 Ultimate Epic Box - Cult Classics
PRE-ORDER - Epic Cult Classic Boxes are expected to ship out in Feb 2022.
There are so many amazing Cult Classic Films out there, that it is hard to pick just 4. However, Epic has picked "some" of the best ones from different genres that captures the best nostalgia of Sci-Fi, Fantasy, Horror, Adventure, Romance, and Martial Arts. This release Celebrates "Big Trouble in Little China", "The Princess Bride", "Masters of the Universe the Movie", and "The Lost Boys"!!!
This Release features 2 incredible celebrity/Actor signers!!
 Featured art print is from a world renown DC, Marvel, and Star Wars Comic Book Artist!!
This tier is the "Ultimate Epic Box" Tier and features 2 Autographs from two amazing actors in one of these franchises!! Also, other great items that you are sure to love!!
Epic Box is not a subscription box but is very much a mystery! Every release will have a theme that includes everyone's favorite franchises and feature Autographs, and collectibles that are truly one of a kind! Every box is guaranteed to contain authenticated autographs for life!
ULTIMATE EPIC BOX CONTENTS 
 1 Standard Epic Box
1 Deluxe Action Figure
1 Autograph from all Signers
??????????
??????????
Disclaimer

Due to the fact that Epic Box is a mystery box and that they contain autographs, they are non-refundable. By purchasing this item, you agree to these terms. However, we are collectors and toy lovers like yourself, and we are extremely confident that everyone that purchases an Epic Box will be very happy with their purchase!! Thank you from the Epic family!!!