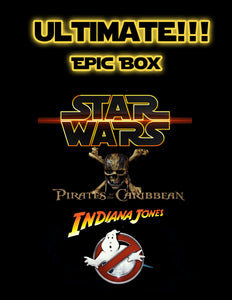 Ultimate Epic Box - Epic Franchises
Epic Franchises is our LARGEST Epic Box release to date!! It includes several amazing autographs from main character actors from their respected films! Along with an absolutely incredible art print from one of the most talented artists on the comic con circuit!! Also included are JSA authenticated Funko Pops, as well as 2 screen accurate full scale prop replicas.
And for the first time ever, it is guaranteed that you will not receive duplicate autographs, action figures, prop replicas, or Signed Funko Pops if you purchase 2 boxes!!!
This Release features 11 amazing celebrity/Actor signers from 

Star Wars, Indiana Jones, Pirates of the Caribbean, and Ghostbusters!!! 
Epic Box is not a subscription box but is very much a mystery! Every release will have a theme that includes everyone's favorite franchises and feature Autographs, and collectibles that are truly one of a kind! Every box is guaranteed to contain authenticated autographs for life!

Ultimate Epic Box Contents:
1 Epic Autographed Picture
1 JSA Authenticated Autographed Funko Pop
1 7 Bucks a Pop - Pop Armor
1 Screen Accurate Prop Replica
1 Amazing Art Print
1 Action Figure (Hasbro)
1 Custom Pin
Disclaimer

Due to the fact that Epic Box is a mystery box and that they contain autographs, they are non-refundable. By purchasing this item, you agree to these terms. However, we are collectors and toy lovers like yourself, and we are extremely confident that everyone that purchases an Epic Box will be very happy with their purchase!! Thank you from the Epic family!!!